Is Claire Bennett really dead?
If Heroes Reborn Season 1 Episode 3 is to be believed, then she probably is. Sure, we don't quite know whether that scene with HRG looking at the blonde is actually her because let's face it – his reaction could have meant either outcome for the supposedly invincible character.
I understand why there are a lot of people clamoring for her to be alive and present, but at the same time, she became such a poorly written character the last time round and was tedious at times. The further she is away from the narrative, the better.
Is anyone else really digging the pairing of Quentin and HRG? I know I am! The two of them going off on an adventure together made for some pretty fine TV. They are both very witty characters and it's pretty obvious that Noah does actually like him. Noah always comes across as rather hostile to people initially. He's not known for welcoming people with open arms. He seems to have a thing for roughing up security guards, right?!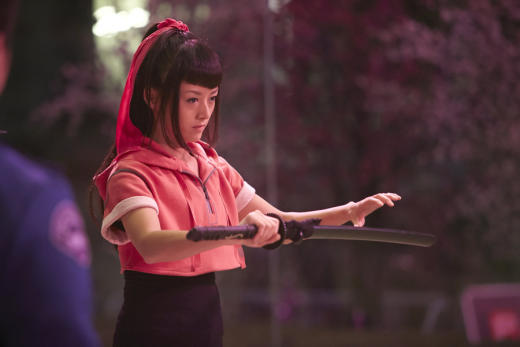 I'll admit that I totally forgot who Molly was last week (forgive me, I was like fourteen when I watched it!) and what her significance was to the plot of the original show, but after a refresh on all things Heroes, I remember her. Sure, she's grew up a lot, but it's fascinating that this show has been produced to introduce new viewers, along with the old ones. There sure is a lot of Easter eggs present in the episodes for old fans.
If you're enjoying Quentin as much as I am, why not watch the prequel web series, Heroes Reborn: Dark Matters? I had no clue that existed, either, but it was a pretty fun watch, and it shows you Quentin and his sister together, and there may or may not be some cameos along the way.
Back to Molly and her power that's going to have her in captivity for, like, ever. Taylor brought good old Molly in just in the nick of time, and we got the reveal that she's Erica's daughter. Erica is the leader of a company that like hates EVO's and wants to protect the world from them. Basically, she's the main villain right now, and she exploited Molly's powers to use in a pair of glasses that can reveal to you the EVOs. How very futuristic, right?
She even went as far as to show the investors who was an EVO in the crowd amongst them. Did she lie, or was there really one there? I have no idea, but she's engaging enough, and I'm sure we'll be getting used to seeing her causing all sorts of drama for our favorite characters.
Meanwhile, the unhappily married couple, Joanne and Luke are clearly about to start arguing over what to do next. The two of them are doing this all for some sweet revenge, but the novelty appears to be wearing out for Luke. He may, or may not be evolved. Scratch that. He is evolved.
"Under The Mask" was another solid effort. Times may have changed, but this show is a worthy successor to the original in every way. NBC has a hit on their hands with this one. I do hope the ratings remain stable enough to warrant an additional run because Tim Kring has managed to give this format a new lease of life.
Other tidbits from the episode:
Carlos is growing on me. His story kicked up a few gears this week, but I'm still not sold on it. There's no denying that the priest has the best power of anyone on the show. Steam anyone?

Miko's story remained entertaining. She has to have some relation to Hiro. There's no way having his sword is just a coincidence. It wouldn't surprise me if it was revealed that Hiro was the mastermind behind the whole game.

What really went on during the time of which Noah has no recollection? What brought him and Molly back into contact? I want answers right now!

Malina is the most memorable character from all of the trailers, but she gets so little screen time. I want to know what the frak she's up to!

Is anyone else expecting Tommy and Erica to cut out the middle man and be a thing? That is, if Tommy takes a break from making alcohol disappear!
Over to you Heroes fanatics, what did you like about the episode? Should Claire return? What do you expect to happen before the season concludes? Hit the comments.